This is our story-our story of walking out our faith journey. Our story of the whys, the processes, the transitions, the questions, the feelings, the joys, the triumphants, the frustrations. This is the true, honest, not always pretty record of our journey.
"THE PROCESS IS THE END. FOR IT IS THE PROCESS THAT IS GLORIFYING TO GOD."
--Oswald Chambers
"This life therefore, is not godliness but the process of becoming godly, not health but getting well, not being but becoming, not rest but exercise. We are not now what we shall be, but we are on the way. The process is not yet finished, but it is actively going on. This is not the goal, but it is the right road. At present, everything does not gleam and sparkle, but everything is being cleansed."
--Martin Luther

Monday, November 28, 2011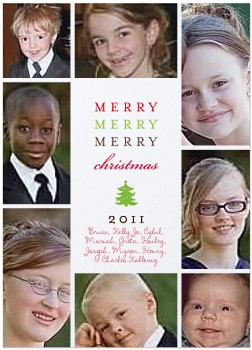 Merry Moments Christmas Card

Saturday, November 19, 2011
Our clemetis (sp?) is STILL blooming!
Not bad for the first trappings of the season...
10 coons (told by the fur trader it was the nicest lot he had seen yet this year!)
4 fox
4 skunks
3 ferral cats
1 possum
4 musk rats
Friday, November 18, 2011
A few days ago Charles did the big first rollover to the screaming cheers of eight fans (Bri missed it). Here is his motivation--chewing on those fingers.
And...he made it.
And discovered it's not really all that exciting.
This morning Shera decided to lay down next to Henry and he grabbed her ear. Well, she of course wanted MORE attention. At one point he let go, so she was trying to "motivate" him to do some more but getting her nose under him. Later she put her head on his tummy, then her front paws and face. Very, very cute. But we probably won't be letting that happen anymore :) My 100lb dog on my 20lb baby isn't such a good idea.
This little curl was from a couple of weeks ago.